---
Dr. Kimberley Moore, Ms. Senior America 2010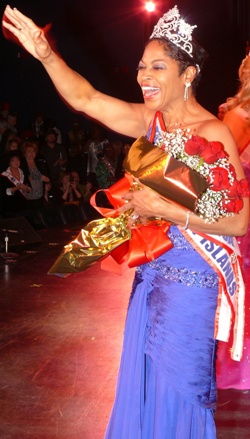 Hello everyone! I bring you greetings and salutations from my native "Gateway City and Show Me State", St. Louis, Missouri! (And also from a place I now call home, the beautiful St. Thomas in the U.S. Virgin Islands)

I am truly proud and honored to be the first Ms. Senior America to be crowned outside the contiguous U.S., and first in the Virgin Islands to have won a National title. Please allow me to tell you about the U.S. Virgin Islands.

The American Flag flies over four main islands; St. Croix, St. Thomas, St. John and Water Island. Each is different in their own ways but all share a common destiny. On the big island of St. Croix, you can discover a historic town where you can discover a rich heritage of culture, as well as exciting land and sea activities. Pastel buildings, historic fortresses and majestic churches can be seen in the charming towns while offshore some of the best scuba diving sites in the world await your exploration.

St. Thomas has made its name known around the world as a trading and duty-free shopping port for centuries. It is home to superb dining, and an exciting nightlife. Our capital, Charlotte Amalie, is the most visited port in the Caribbean with one of the most magnificent harbors in the world. In addition, the Virgin Islands government has the ability to offer tax benefits to businesses doing business in the Virgin Islands.

St. John and Water Island each retain much of their calmness with white sands, blue skies and turquoise seas, inviting you to swim, sail, dive and relax. Two-thirds of the island is a national park, established in 1950 with land donated by American financier Laurence Rockefeller. I find the U.S. Virgin Islands to be a great place to live, work and play! It has been my fountain of youth for the past 18 years. There is something here for everyone, young or old!

In today's society, we're flooded with negative messages and images about what it means to age. We don't see enough protrayals of active older adults who are taking on new challenges, expanding their knowledge & skills, or working tirelessly to help others. But I'm here to "show and tell" that Ms. Senior America represents active aging with elegance and grace. My goal is to nourish the seeds of wisdom from founder, Dr. Al Mott, and strive to change the way society perceives aging.

What a profound impact this experience has had on me. It has been wonderful representing Ms. Senior America, inspiring & serving as a role model for women of all ages. During my reign, I've traveled from the Virgin Islands to 16 states; judged local pageants, attened state pageants, entertained at various senior facilities in the VI as well as the U.S. I've volunteered and mentored at health fairs, community outreach and attened fundraisers for my favorite charities.

My calendar has been booked with at least three to four events each month. I was interviewed and featured on local and national radio, TV and print media as far away as the United Kingdom in "The Guardian" magazine. I became an honoreee, guest speacker and main attraction at various celebrations around the country. I was absent from my office frequently, but my patients understood. They remained extremely loyal and supportive!

Halos to my family and friends in St. Louis, MO; especially my daughter, Paris, who helped to shape my "Philosophy of Life". To Ms. Senior America's National Officers Dr. Al Mott, Betsy Appello, Bob & Louise Ferla, as well as Nicole Hannemann; thank you all for making Ms. Senior America possible. To all the directors and members of the National Senior Alumni Association who invited me to their pageants, and were so gracious to me, I thank you.

Ida White, director of St. Thomas, thank you for planting the seed of competiton in me to be Ms. Virgins Islands Senior America over 11 years ago, when I wasn't remotely interested! Now look what happened! We broke the mold! As my mother says: "You reap what you sow."

Louise Ferla, you are the epitome of Ms. Senior America with your charm, generosity, leadership and friendship. You were a wonderful chaperone! The Ed Morris Cadillac dealership will never be the same! We left our Senior America mark! You were there for me throughout my reign, providing encouragement and support. I thank you from the deepest part of my heart.

The PR person of all-time, Pinky O'Neil! Your spunk and personality made you the life of the party on St. Thomas. Thanks for bringing the "Showcase" to the Virgin Islands. Without you, it wouldn't have happened!

Florida's director, Kenyonn Demps; you managed to put it all together with grace and aplomb, and to think this was your first experience directing a pageant. I applaud you. I enjoyed every minute.

To Virginia's director, Annmarie Pittman, and my driver Al DeLancy; you worked two wonders in getting me to the airport in time for my flight to California. Thank you! The unforgettable, hospitable, Irene Burton, and the lovely, thoughtful Joyce Rilly Clautice; I thank you both for your hospitality and support.

My St. Louis, high stepping, toe tapping Dolores Rehling & other strutters; director Jan Barrett, thank you for the invitation to witness, & be a part of a great pageant. Peg Shores, Jeannine Liebich, Joan Daues, thanks for the "small things". You're the best home girls I know. Barbara Malta, your kindness will never be obliterated. Looking for see you and Dennise in St. Thomas!

Washington DC director, Gwen Coleman, Family Matters executive, Tanya Smalls, Darlene Nowles-Office on Aging, and all the members of the National Senior Alumni Association; you put the "R" in "royal" treatment at your "Purple Rain" pageant. My chaperone, Ms. DC Senior America 2010, Sheila Poole, was such a cool queen. You showed consideration, kindness, and you were such fun! R.C. Turner, your "girlfriends" celebration was one of the most memorable events of my reign. Thank you for inviting me, and for your support throughout my tenure. You are all such an inspiration. Keep doing what you're doing. Soon, there will be "Girlfriends Clubs" throughout the United States!

Pennsylvania's director and wonderful hostess, Barbara Deleon, thank you and John for an enchanting evening at the LaRue Vineyard. Owner, Don E. Gauntner & friend, Sue Wieler, were fabulous! What great wines, ambieance, and relaxing evening...one I will never forget! Thanks for making my stay comfortable and for a fun pageant!

Mary Frances Hansen; who can you get to fill your shoes?! It will be difficult, what a pageant! Never before have I seen so many vendors. What a surprise, what a crowd! To Pat Housel, your daughter Pat, MSA 2002 Mary Virginia Tuinstra, and Ms. Texas Senior America 2010, Paula Lee, thank you for all your kindness and hospitality.

Last but not least, to all my sponsors, the U.S. Virgin Islands Dept. of Tourism, Commissioner Beverly Nicholson Doty; Allegra Kean Moorehead, and staff for their patience & understanding. Your financial assitance helped to make my reign fun and successful and my medical practice stay afloat! I am eternally grateful and proud to represent the U.S. Virgin Islands!

I wish the new Queen the best & hope her reign will be filled with fun, friendships and financial assistance. I hope she will continue to help change the way society perceives aging and to do it with grace and elegance. My "Philosophy of Life" is: "Plan for the rest of your life to be the best of your life. It's not having everything go right; it's facing whatever goes wrong. It's not being without fear; it's having the determination to go on in spite of it. Everyday ends and brings a new tomorrow full of exciting new things. Love what you do, and the best at what you do. Be at peace with God, whatever you perceive him to be. Remember, have a plan, work the plan, or the plan doesn't work."