---
Gail Lizardy King, Ms. Senior America 2009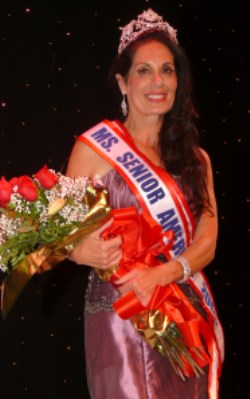 It's been a year since I've been crowned Ms. Senior America and I am surprised at how much my life has changed. I thought I would share a few highlights in addition to my many promotional appearances on television including the programs "Daytime TV" in Tampa, FL and "The Richard Massabny Show" in Virginia. I have also given radio interviews across the country and have become a published author in magazines and newspapers. I am still surprised when I am recognized in airports, train stations and restaurants. After marching in the St. Patrick's Day Parade in NYC, I had the honor of meeting with Archbishop Timothy Cardinal Dolan who encourgaed my work with support groups. Also exciting was my invitation aboard the USS New York, being honored in Albany, NY by Senator John Flanagan, meeting with Governor Paterson and receiving fifteen proclomations this year!

Being nominated for Senior Of The Year as well as The Suffolk County Women's Hall Of Fame and Suffolk County Women's Advisory Board was a humbling experience. In Washington, DC I posed on the steps of the Capitol with Bill Livingood, Sergeant-at-Arms of the House Of Representatives, and on Long Island I posed with Alec Baldwin at the Carol M. Baldwin Breast Cancer Research Fund Gala at which I was an invited guest. I had such fun dancing and speaking at veterans centers, chatting on stage with Mickey B, the "Prince of Rock and Roll" at the Patchogue Theater, crowing state queens across America, visiting childrens hospitals and making commercials and infomercials.

My original literacy program involving senior citizens with elementary school programs is being shared around the country. I am thrilled to promote literacy while providing a fun and nuturing atmosphere. Seniors and students read to each other, write to our troops overseas, are entertained by visiting seniors and work on craft projects together. All are treated to my original lyrical ballet inspired by my overcoming adversity through love, hope and compassion while emerging as a voice of advocacy in the "Age of Elegance". This ballet is now being used in an abused women's program to help women fight fatigue and depression.

I auditioned and became a featured extra on shows such as 30 Rock, Extreme Forensics, Royal Pains and in the motion picture "Salt" with Angelina Jolie. Instant Cast, a modeling and acting site, follows me around the country in a blog entitled "Where in the World is Gail King?". Oh-Chic features me as a model and cancer awareness author. A vignette about my cancer experience has been included in a Washington, DC play by Eileen Mitchard. And to think I was concerned about what my retirement life from teaching would be like before I entered the Ms. Senior America Pageant!

By and far, the most rewarding experiences occurred when I spoke before support groups including Stony Brook University, Vanderbilt University Medical Center in Nashville, TN, The Pink Ladies Support Group in Mt. Joliet, TN, Relay For Life, Strength To Strength at the Sid Jacobson JCC in Roslyn, NY, Scottish Rites Childrens Hospital in Dallas, TX, and with actress Fran Drescher's "Cancer Schmancer" groups.

As I stepped outside of the box and left my comfort zone, I realized that this has been a year of growth, revelations and reflections for me. After meeting with cancer survivors aged 15 to 84, and hearing about their concerns, questions and lessons in courage, I realized that this was much bigger than I. I see myself as a symbol of hope and strive to inspire others. Anything can happen; you must never give up no matter what. I have shared my story, raised money for cancer awareness and helped "the Cause". As one woman recently said to me: "Your national reign for this year may soon be over but this is the crown you will wear for the rest of your life." Early on, I recognized the choice I had: hope vs. hopelessness. I have the power to change my life for the better and affect the lives of others. Impressed with Winston Churchill's philosophy of never giving up, I included having a positive attitude while combining a balance of spirituality, physicality and emotionality.

When William Shakespeare stated "How sweet are the many uses of adversity", I could only think of all the good that has come from my experience. I learned how fortunate I am to be able to give back. "Paying it forward" has become and integral part of my life. I learned that you don't have to come in first in a pageant in order to be a winner. A winner is defined by how he or she lives life each and every day; how one handles their accomplishments with humility and dignity and disappointments with decorum. My life is enriched because I am able to give to others. I am thrilled to dedicate the second act of my life volunteering as I am determined to make a difference. I discovered what the humorist Sam Levenson already knew: "You have two hands: one for helping yourself, the other for helping others."

My thank you list is huge but I must acknowledge Dr. Al Mott, Marleen Schuss, Bob Geltman and the New York Cameo Sisters for their support and faith in me. Thank you to my new friends Louise & Bob Ferla and Pinky O'Neil. Thank you, Nicole Hanneman, Hollie Knight, MSA 2008 Olivia Haley, AnnMarie Pittman, Maureen Ribble, Wendy Pinhey and Mary Frances Hansen for the wonderful hospitality you showed me as I helped to crown your new queens. A very special thank you is reserved for my Shelly Cohen, who shares my vison. I wish the very best for the new queen and hope she will use her new title wisely.