---
Linda Wagner, Ms. Senior America 2007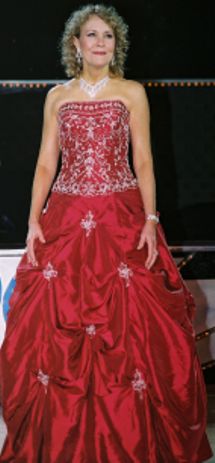 Linda Wagner has been a music teacher and performer for many years. Her musical training began at the age of seven with piano lessons. She earned a BS in Music Education from the University of Minnesota and a MS degree in Education from Bemidji State University in Minnseota.

For the past twenty-one years she has taught music to predominantly American Indian children in Cass Lake, Minnesota. In addition to public school teaching she is an adjunct instructor in Voice at Bemidji State University and choir director at her church, where she also chairs the Worship Committee.

Having had the opportunity to live in many different locations, Linda has performed major roles in musical, oratorio and opera productions in Minnesota, Texas, New York, Berlin and Bangkok. She is a Schubert Club competition winner and first place winner of the Metropolitan Opera Auditions in Minnesota. Currently her activities include directing choirs and musical programs for her school, coaching high school students for vocal contests and tryouts and performing frequently in "Opera Nights", with the Bemidji Symphony Orchestra and Bemidji State University musical ensembles.

She has been married to her husband, Bob, for thirty-nine years, with whom she enjoys tandem biking, running and skiing. They have three daughters and two grandsons. Upon retiring from full-time employment, she looks forward to having more time to perform, volunteer and enjoy her family.

Of her past year as Ms. Senior America she writes: "One year ago, when I embarked on the journey to become Ms. Minnesota Senior America, I had no idea how my life was going to be impacted. It has definitely been the adventure of my life to hold the title of Ms. Senior America as well. In this experience I have been challenged and thrilled, apprehensive and eleated, humbled and affirmed.

It has been the greatest honor to represent Senior America in many events in Minnesota where I have spoken and performed for the city council of my hometown, service clubs, women's clubs, Cameo Club events and a Senior Expo. On a national level I have appeared in parades, grand openings, radio and television interviews and pageants. On all of these occassions I have been treated with respect and honor. Throughout this year I have been richely blessed by the people I have met and will hold the memories as a treasure in my heart forever.

My message is one of giving oneself a chance, and being courageous to follow one's dreams. There is no age limit on achievement. Women in the 'age of elegance' are vibrant, influential, talented and beautiful in all ways. Being viewed as an example for others results in constant self evaluation and improvement.

There are so many people that I thank for assisting and encouraging me. I am grateful to my employer, School District 115 in Cass Lake, MN, for giving me the leave that I needed to fulfill my responsibilities. My husband, Bob, answers the telephone at our home by saying 'Home of the Queen!'. His love and support have allowed me the freedom to travel and share the message that we all have gifts to share. My state director, Bill Rasmussen, and also Jeanne Rogers have given me invaluable advice. I am also grateful to state directors Joan Daues and David & Kay Calvert for inviting me to their pageants in Missouri and Colorado. At the national level I have received guidance and assistance from Louise Ferla, Pinky O'Neil, Nicole Hanneman, and of course, Dr. Al Mott, the founder of Senior America. What a wonderful gift we have been given in Senior America.

I agree with Helen Keller who said 'Life is a daring adventure or nothing.' We all have a choice. We can continue to wish we would have done this or that, or we can just go ahead and do it. We can make the most of every opportunity or we can continue to say it's too late.

To the ladies who are performing today I would say 'Congratulations! You are all winners. Remember to be true, be honest, be yourself. It's just much easier that way.'"