---
Sandra Greco, M.D., Ms. Senior America 2003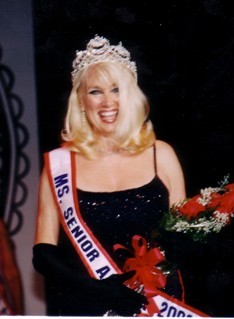 Sandra Greco, M.D., of Oceanport, New Jersey was crowned the twenty-third Ms Senior America at the Golden Phoenix Hotel Casino in Reno, Nevada on November 8, 2003. Dr. Greco sang "Misty" during the talent portion of the show. She has been a member of a number of choral groups in the past, and continues to study voice.

Sandra, the eldest of three sisters, was born in Chicago in 1942. She attended the University of Illinois on a full scholarship and graduated cum laude. She worked in advertising and modeling, and was also a social worker and a school teacher. Sandy married in 1964 and had two children. When her marriage ended, she decided to attend medical school. She began medical school in 1976, and completed an accelerated course, receiving her M.D. In 1979. She earned honors in surgery, medicine, obstetrics-gynecology, and radiology. She completed a residency in emergency medicine at the University of Chicago, and worked in the emergency department of an Evanston, Illinois hospital until moving to New Jersey with her children in 1984.

After moving to New Jersey, she took a position as the director of emergency department at a Newark hospital, where she worked for 16 years. After retiring from this position at the end of 2000, she continued to work part-time at an emergency department in Red Bank, N.J. She now works primarily as a volunteer physician at the Parker Clinic in Red Bank, New Jersey.

Sandy is engaged, and has two married children. Her daughter and son-in-law live in New Jersey, where her daughter teaches Spanish, and her son-in-law is the chef-owner of a restaurant. Her son, daughter-in-law and grandson live in the Chicago area, where her son, a mathematician, owns a financial company, and also teaches a graduate course at the University of Chicago. Her daughter in-law is a talented artist.

Dr. Greco continues to perform and travel with the Cameo Club of New Jersey and speaks around the country for Holiday Retirement Company, a national sponsor for Senior America. Sandy enjoys travel, biking, boating, physical fitness, as well as the theater and the opera. She is active in a numb of different activities and groups, and is a member of the American College of Emergency Physicians. Sandra Greco, M.D. Is looking forward to a busy and productive year reigning as Ms Senior America.