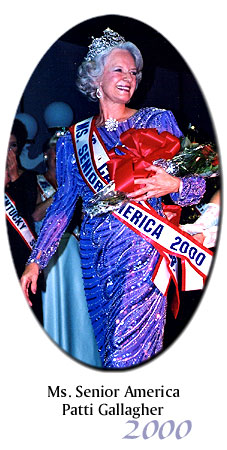 Patti Gallagher of Palm Springs, the reigning Ms. California 2000, was crowned Ms. Senior America 2000 at the Peppermill Hotel & Casino in Reno, Nevada on October 19, 2000.

State representatives from across the United States, including the Virgin Islands and Hawaii were judged on personal interview, evening gown, "philosophy of life" and talent. Patti Gallagher performed an operatic aria, O Mio Babbino Caro, by Puccini.

In 1998, Patti Gallagher retired from teaching at Santa Monica College in Santa Monica, CA. Throughout her adult life Patti has combined a career in performing in Opera, Musical Theater and Drama along with teaching singing, acting and speech. As a matter of fact, Patti holds a Bachelor of Music in Opera Performance from Indiana University, a Masters in Music and a Ph.D. in Speech and Theatre from the University of Missouri.

Since retiring to Palm Springs, Dr. Patti Gallagher, our new reigning Ms. Senior America 2000, performed weekly in concerts singing various arias and songs from Musicals. She is on the Board of Directors of the Opera Guild where she helps produce a yearly "Opera in the Park". She and her husband Ed, as members of the English Speaking Union, are co-chairman of the annual Shakespeare Competition for High School students. She is also a member of the National Association of Teachers of Singing, the Desert Woman, P.E.O. and the World Organization of China Painters. She sings at the Episcopal Church in Palm Springs. She enjoys hiking, gardening, cooking and the art of China Painting. She and Ed love to travel and enjoy attending the arts events.

Dr. Patti Gallagher will soon celebrate her 45th wedding anniversary with husband Ed, also a retired college professor. They have two sons; Jack is a junior executive for a software corporation and Charles is a lawyer in Palm Springs.

After being crowned Ms. Senior America, Patti opened a Holiday Retirement Village in Tulsa, Oklahoma and returned home to receive an invitation to sing at the White House.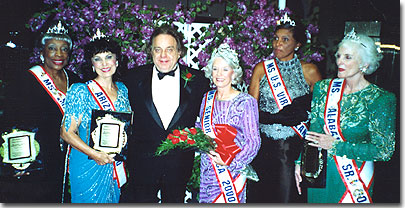 Ms. Senior America 2000
Patti Gallagher and Her Court
(Left to Right) 3rd Runner-up, Beverly Hunt-Sherrod (Michigan); 2nd Runner-up, Cathy Emma-Urban (Arizona); Dr. Al Mott (Senior America Founder); Ms. Senior America 2000, Patti Gallagher; 1st Runner-up, Toya Andrew (Virgin Islands); and 4th Runner-up, Patricia G. Odom (Alabama).