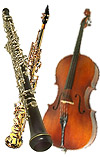 After decades of advocacy, our current generation of seniors generally enjoys better physical health, financial comfort and social respect than did their predecessors, and as their own needs have been addressed, their social awareness and interests have evolved as well.
Today's seniors seek personal growth through continuing education and


community service in forums responsive to their special needs and lifestyles and Senior America is there to encourage those activities through the Ms. Senior America Pageant, and other activities designed to promote the dignity and value of America's seniors.
Find the Senior America State Pageant organization in your state and get involved today!