MS WEST VIRGINIA SENIOR AMERICA 2020-21,
JANIS THOMAS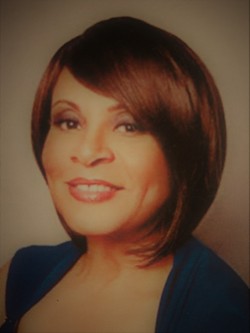 CONGRATULATIONS to JANIS THOMAS, Ms West Virginia Senior America 2020-21!

As Janis tells it: "Born and raised in "Almost Heaven" West Virginia, I grew up in the historic iconic small town of Harpers Ferry dipping my feet in the Shenandoah and Potomac Rivers. Brothers and sisters everywhere, my family life was loving as I was raised in the days of segregation, and my parents instilled in me that I was smart, adorable, and the only thing that would hold me back would be my own limitations, no one else had that much power, and that honesty and integrity were the characteristics that would take me along way. With that being said, I am honored beyond belief to be the 2020-21 representative from my home state of West Virginia.

An honor graduate from Harpers Ferry High School, attaining language arts and library science degrees from Shepherd (College) University, I spent the first 19 years after graduation as an educator. Later I attended West Virginia University, graduating with honors with a counseling degree, and finished out the last 26 years of my work time as an elementary school counselor, being selected for several awards along the way. My years of helping my students and their families economically and socially were the best reward, while also working with agencies like Social Services and Police Departments. Helping people has always been my forte, starting with being a Sunday school teacher at the age of 14.

My loves are my two amazingly talented children, four munchkins I call grandchildren, and many family members who support me. I put God first and family a very close second.

At 60 I became an independent business owner with the top residential and business essential services company in the world, and later started educational consulting work building relationships between teachers and students. I invented the New Student game still produced for counselors and distributed by Marco Products. Once a realtor, I still love house hunting (love the tiny houses) and interior decorating - so many dynamic colors now. My hobbies are creating beautiful memory scrapbooks for others, designing bows and centerpieces, cooking, and shopping on sale. Motto: Never pay full price for anything.

I consider myself a silent volunteer. I just show up to help behind the scenes whenever I can, which gives me the opportunity to take part in a broad range of organizations. People always love the extra help, and I love people. I like to follow the teaching of motivational speaker Jim Rohn's message of "Service to many, leads to greatness." It's not about me. I am nobody special.

My number one goal is to be healthy by incorporating in my daily routine, prayer, eating properly, exercising, reading, dancing, talking to family and friends, and just enjoying life. I believe success is determined by mindset. You are what you think.

A graduate of Barbizon Modeling School, I still love dressing up and walking the catwalk through life. I have enjoyed dancing since the age of 5 and hope I convey how much I have enjoyed many years of dance with jazz being my favorite. Dancing is good for the soul. On my way to the age of elegance I have coached young pageant girls, coached cheerleaders, one of my favorite creations is self esteem groups for the youth, and too many groups to list, just trying to add memories to the lives of many. Molding the youth of tomorrow to add positivity to the world has always been my ambition, and I hope I have done that with the thousands of students' lives I have touched, taught, and counseled over the years.

I see more dancing in my future, writing a children's book, getting more recognition for my accomplishments in business, being the best mom, grandmother, family member and friend ever, and leaving a legacy talked about for many years.