The Ms West Virginia Senior America State Pageant is administered by Linda Huntley, former National Pageant Director, and Linda Anthony, Ms. North Carolina 2013. Many thanks to Ms Huntley and Ms Anthony!

The Queen's Coronation was held on Saturday, March 24, in Charles Town, West Virginia, at the American Legion Hall. Check back for updates on the new Ms. West Virginia Senior America 2018!


MS WEST VIRGINIA SENIOR AMERICA 2018,
SANDI WATERS WISNIESKI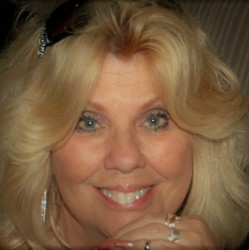 CONGRATULATIONS to SANDI WATERS WISNIESKI, Ms West Virginia Senior America 2018!

Sandi was born in Washington NC and raised in the county for most of her childhood and she is very much a country girl at heart. She moved to California when she was 12 and was there until age 17 when she returned to the country and has stayed close to it ever since.

She is married to Al whom she lovingly refers to as Boomer, between them they have 7 amazing children all of whom are grown and has made them grandparents many times over as well as Great Grandparents. Sandi has semi-retired, working part time as the Office Manager and Comptroller for ECS, a construction company in Sterling, Va. She began working at the age of 15 and was fortunate enough to be a stay at home Mom until all of her children were in school. Upon re-entering the work force, she really didnít have a large amount of office skills and then she was introduced to an up and rising young Accountant named Frank, whom to this day she credits for being her Mentor and teaching her the accounting skills that afforded her a wonderful career for 30 years that would not have been possible without his patience and guidance.

Sandi has spent the last 45 years of her life involved in as many as 3 different forms of Volunteer work at one time. In fact, at this time she is currently involved in 3 completely and as needed in 2 more.

She is very proud to be involved with Make-A-Wish, St. Judeís and a local support group for women, Confidence Builders where she hopes to help be a wonderful source for women to grow and strive and have a rewarding life.

Sandi was the recipient of the Rappahannock Area Council for Child Abuse Prevention (RACCAP) Volunteer of the Year Award in 2003. That award is given by the United Way and includes volunteers from the entire Rappahannock Area of Virginia. At the time she was honored with this Award she was the Facilitator for a weekly Parent HELP Support Group. She also was the Treasurer for RACCAP and served on the Board of Directors. Julie Rivnak, who is the Director stated at the Ceremony that she truly believes without Sandiís leadership and skills that RACCAP would not have grown as it had. The real joy for her in the being given the award was knowing it meant she helped children and their parents have a better life and being a part of that was a blessing.

Sandi is also very proud of her husband and his status as a US Military Vet, which has allowed him to be a Brother to hundreds of other Vets in The US Military Vets Motorcycle Club, hence the reason for the name Boomer, the love and the bond shared between the brothers and sisters is truly something to behold. For Sandi, there is very little a ride on the back of Boomers motorcycle canít fix.