The Ms. Virginia Pageant is run by the Ms Virginia Senior America Pageant organization under the supervision of Rebecca Nunn and the dedicated Virginia team: Anmarie Pittman, Linda Huntley, Elsie Bartlett, Vicky Pereira, Mark Lappin, and Albert Nunn.

Many thanks to former State Administrator Annmarie Pittman for her hard work, commitment, phenomenal State Queens and wonderful state pageants!

The Ms Virginia Senior America State Pageant was held on July 7, 2018, in Falls Church, Virginia. Contact msvirginiasenioramerica@gmail.com or see msvirginiasenior.com to learn more!


MS VIRGINIA SENIOR AMERICA 2013,
DEBBI MILLER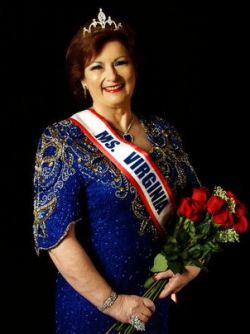 Our newly crowned Ms. Virginia Senior America is also the winner of the Community Service Award! Debbi Miller is a singer, a scholar, a mother, a volunteer and a world traveler.

Because her father was an Air Force career officer, she grew up all over the United States. Now a resident of Fairfax, Debbi is married to Ambassador (ret.) Terry Miller, whose diplomatic career took them to posts in Italy, France, Barbados, New Zealand, and the United Nations.

Debbi has undergraduate and graduate degrees in vocal performance (Birmingham-Southern College and Univeristy of Texas), and has also trained privately in New York, Milan and the Music Academy of the West, Santa Barbara. She earned a Phi Beta Kappa key, and was President of Mortar Board, and President of Sigma Alpha Iota. She was a Presidential Scholar and a National Merit Scholar.

A natural performer, Debbi has sung throughout the U.S. (and the world!), and is equally comfortable singing opera, Broadway, lieder, sacred/oratorio, and women's barbershop. She has sung 15 leading opera roles, including a world premier. She is an active recitalist and a Member-at-Large of Sweet Adelines International. She is the soprano soloist/section leader of First Baptist Church of the City of D.C. She also plays violin, and has recently picked up the baton to conduct the pit bands for the musicals "Seussical" and "Godspell".

Debbi has been a dedicated volunteer for many years, in a wide variety of organizations, including Boy Scouts of America, Kings Park West Civic Association, TJHSST Band Boosters, Little League, Neptunes Swim Team and Fairfax County Public Schools. In recent years her volunteer focus has been with AAFSW (Associates of the American Foreign Service Worldwide), in which she serves as both Membership Chair and Mentoring Chair.

Terry and Debbi have three magnificent children, all professional musicians - a singer/actor, a trumpeter and a flute/piccolo player, all three of whom play piano. The whole family joined musical forces this past year to record a very special CD entitled "Songs for My Father," in honor of Debbi's fathers 90th birthday. When not making music, Debbi loves to work in the garden, read lots of books, practice yoga and do puzzles.