MS TEXAS SENIOR AMERICA 2013,
MYRNA BLACKWOOD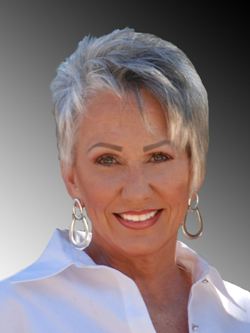 CONGRATULATIONS to MYRNA BLACKWOOD, Ms. Texas Senior America 2013. We would also like to thank the State Director Jill Beam and the Sponsors for another fabulous Texas State Pageant and Mary Frances, YOU will greatly be missed!

Myrna Blackwood was raised in Gospel Music as part of the famous "Blackwood Brothers Quartet," famly of singers and has been performing on stage since the age of six.

Myrna has performed for such clients as Rockwell International, IBM, Digital Equipment, Toyota, General Motors and The Texas State Society for former President George Bush, Sr.'s Inaugural Ball in Washington, D.C. And she worked closely with Oprah Winfrey on the music for the "Save the Children Foundation" convention in Dallas, Texas.

In Dallas she recorded commercials and jungles and provided background vocals in the recording studios for many well known recording artists.

She costarred in an independent Dallas Movie, "Begging Your Pardon."

Myrna has performed with celebrities, Toms Jones, Englebert Humperdinck, Leann Rimes, and well loved comedians Bob Hope and Red Skelton. She also entertained on Norwegian Cruise Lines. For 20 years she worked with the Miss Texas America Pageant contestants teaching vocal performance, choreography and motivation.

For several years she spent winters in the Rio Grande Valley and Arizona, entertaining in the "Winter Texan" and "Snowbird" Resorts.

On August 24th, 2013, she won the Title of Ms. Texas Senior American in Dallas, Texas.

She now lives in Colleyville, Texas with her three Chihuahuas, Emma, Bella and Sophie and is a volunteer for Faith Presbyterian Hospice in Dallas.