MS SOUTH CAROLINA SENIOR AMERICA 2019,
BERNADETTE DUDEK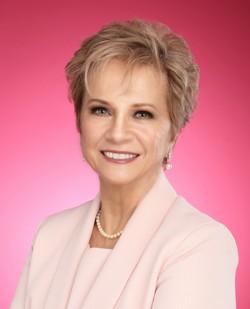 CONGRATULATIONS to BERNADETTE DUDEK, Ms South Carolina Senior America 2019, and Special Thanks to State Administrator Connie Ross-Karl and Co-Administrators Ida Brinkley, Ms South Carolina 2010, and Laura McFayden, Ms South Carolina 2012, for a wonderful State Queen!

Bernadette J. Dudek, Ms. South Carolina Senior America 2019, was blessed with a natural singing voice, and throughout her early years performed in the NJ Allstate Chorus, Operatic Festivals and local theater productions. One particular highlight was performing at the NJ Pavilion at the Worlds Fair in Flushing, NY.

Bernadette and her husband, Al, were married in 1966 and raised 4 children. Bernadette established a business of home décor, designing, making, and installing window treatments and bedding. She also crafted decorative wreaths. She served as Cantor in the Catholic Church for many years and performed in community programs throughout NJ. Bernadette was active in the Church Religious Education programs where she taught Confraternity of Christian Doctrine to students preparing for Confirmation and also worked in the Pre-Cana programs.

Returning to workplace, Bernadette was the Executive Assistant to an International Attorney where she became Vice President of a Real Estate Management Company managing business properties for European businessmen. After leaving the real estate world, Bernadette accepted the position of Executive Assistant to the President of the Board of Public Utilities in Newark, NJ. She then moved onto the Division of Consumer Affairs ultimately accepting the position of Chief of the Consumer Service Center, all within NJ government. Bernadette served as liaison between the Director of the Division and State Medical Boards. She was also a CALA (Consumer Affairs Legal Assistant) representative. She ended her professional career retiring from the position of Executive Assistant to the County Administrator of the County of Passaic, NJ.

Bernadette and her husband purchased a home in Manchester, NJ, in 2005 where they hoped to enjoy retirement. Unfortunately Bernadette was widowed in 2008. After moving to Ocean Twp., NJ, a few years later, Bernadette competed in the Strand Theater's Senior Idol talent competition and won first place. She then accepted the position of emceeing the program which she did until moving to South Carolina. One of the highlights of her winning this competition was the opportunity to sing the National Anthem at the Blue Claw's Stadium in Lakewood, NJ. The Blue Claws are the Triple A Farm team of the Philadelphia Phillies.

In 2016 she relocated to her new home in South Carolina. Moving to South Carolina and living in Sun City Carolina Lakes has been a wonderful experience. Bernadette has enjoyed meeting new friends and performing. She is fulfilling a lifelong dream of playing the piano and has started taking lessons.

Bernadette recently purchased a vacation home in North Myrtle Beach, SC, and is loving learning how to do the SC state dance, the "Shag". She has performed in local and community productions in both North and South Carolina and is thrilled to be able to represent her new home state of South Carolina in the 2019 Ms. Sr. America Pageant. Bernadette has 4 children and 7 grandchildren who are the light of her life.