MS RHODE ISLAND SENIOR AMERICA 2015,
FRAN OWENS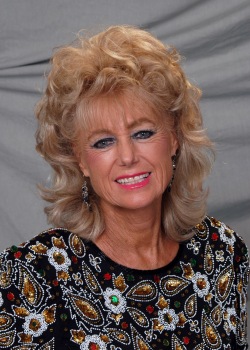 Music makes the world go round! It's not a song until you've sung it!

Fran was born in the small town of Bingham, Maine. God gave her the gift of music and she was singing on stage at the age of four. At six, she was studying classical piano, tap dancing, twirling batons and doing variety shows in her surrounding area. She was singing with a 5 piece band at fifteen. She entered and won talent contests on local television all through high school. She played organ at her church during the summer time, and taught bible study for 6 years.

After high school, she got married and started a family. She continued to sing at clubs in her local area. Then she got booked out of Boston and appeared in New York, South Florida, South America, the Caribbean, Las Vegas and California. She was chosen out of many applicants to do Navy Appreciation Week in south Florida and sang on board the Theodore Roosevelt in 1984. Fran has recorded 35 albums, singing standards, oldies, light country, and original songs she wrote about her life experiences.

She owned her own writing company "For You Only" from 1986 to 1991, which included all occasion cards, wedding invitations and eulogies. Starting in 1988 she studied nutrition for five years and became certified to teach. She taught classes on: "Did You Know That Being Healthy Is A Choice".

In 1993 she left society as she knew it, and took a job as "Head Cook," and was on staff at Shepard's Gate homeless shelter in Grenville, South Carolina. She lived at the shelter for a year and a half and found it very gratifying to apply herself in ways she had never known as an entertainer. She taught bible study and helped the families find their way back to society. When she left the shelter, she moved back to New England and continued her singing career.

Fran found out about Senior America in 2005 and because she had lived in Massachusetts for many years, competed at the age of 64 and won the title of Ms. Massachusetts Senior America in 2007. she has enjoyed dedicating her life to entertaining in nursing homes, assisted livings, adult day cares and senior centers. She has written and recorded many song for the "senior age group". She has 7 CDs, and a TV show dedicated to Senior America which is on her website: www.franowens.com.

She has always loved to sew and design, so she has developed her own clothes line called: "FRAN" TASTIC CREATIONS. She has designed over 100 of her cocktail dresses, gowns, and even her own casual clothes. She also designs belts, shoes and handbags.

Fran is the mother of four grown children (two girls and two boys), grandmother to nine grandchildren, and is happier at this stage of her life than ever before. She loves her relationship with her grandchildren and always makes time for them in the middle of her singing career, and traveling to stay a close part of Senior America.

Fran says: "I am thankful that God has given me the gift to entertain; I am blessed to make a difference in the lives I touch every day."

It is never too late to live your dreams and it is not looking "back" to where you have been, but rather looking "forward" to where you are going. "I have a lot to give, and life is a "journey," I am going to enjoy."