MS RHODE ISLAND SENIOR AMERICA 2019,
TERRY VECE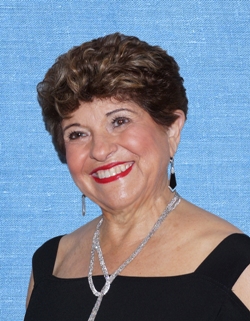 CONGRATULATIONS to TERRY VECE, Ms. Rhode Island 2019!

Terry Vece was born into an Italian family in New Haven, CT. She attended high school there and married her high school sweetheart shortly after graduation. She raised her family of two boys and one girl in Branford, CT where they resided for forty-six years. She has six grandchildren and two great-grandchildren.

She attended the Yale University Medical Assistant training program and became a certified medical assistant. She was employed at an OB/GYN practice for her entire 40 year career. She was trained in artificial insemination and found it to be one of the most rewarding things she had ever done.

She loved to dance and never giving up on that love, she joined the Branford Dance Theater. She performed in many productions and went on to become the President of that organization. As an offshoot, the Elm City Cloggers was created in which she performed many times in and around the state of Connecticut. She joined the famed Shubert Theater in New Haven as a volunteer usher. She eventually became the President of the voluteer group - The Shubert Stars. In that position she had the opportunity to meet many famous actors performing at the theater.

Her Italian roots provided her with a strong sense of family and friends. "To help and support" is her credo. Today, as most of her elders have passed, she relies on life experiences to guide through the years.

In her sunset years, she has found that retirement in a fifty-five plus community has allowed her to make an entirely new family. She enjoys passing her time in acitivites that eluded her as she raised her family, one of which is dancing. She enjoys performing in Music in Motion, a premier dance group which allows her to explore her love on jazz and tap dance. She is a healthy, happy person who is ready when the good lord calls her. She will tap her way to the pearly gates.....5,6,7,8 !