MS. NORTH CAROLINA SENIOR AMERICA 2013,
LINDA ANTHONY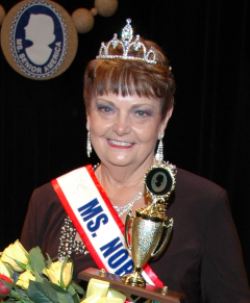 CONGRATULATIONS to LINDA ANTHONY, Ms. North Carolina Senior America 2013, and a special thank you to the wonderful State Directors Judy Kelley, Bev Wetherbie & Sarah Daffron for another successful year!

Linda was born on August 23, 1949 in Galax, VA where she lived for 27 years. She married Dennis Anthony on July 2, 1977, and moved to North Carolina. Linda has a brother, who lives in Pilot Mtn., NC and a sister and mom who still live in Galax. Linda and Dennis have no children, but several nieces and nephews.

Linda received her Bachelor's Degree from Radford University in Radford, VA in 1971. She worked at Bank of Virginia for two years, then taught first grade at Fairview Elementary in Galax, from 1973 to 1977. After marrying Dennis, she moved to Winston-Salem and taught at Hall-Woodward Elementary for 34 years. During that time, she received her Academic Gifted certification from Wake Forest University and her Master's Degree from Appalachian. At Hall-Woodward she taught grades 2-5, Title I, and was Curriculum Coordinator from 1999 to 2011 when she retired. She was Hall-Woodward's Teacher-of-the-Year in 1983, 1986, and 1993 and was Winston-Salem Forsyth County's semi-finalist in 1986 and 1993.

At age 13, Linda started playing the piano at Oakland United Methodist Church. At age 21, she organized and was the director of The Koinonia Singers from Galax, VA. This was a youth choir of 25 ranging from ages 13 to 21. The group traveled to different churches in VA, TN, and NC to sing and witness. They even produced a gospel album, "Koinonias Find A Quiet Place." They sang at Dennis and Linda's wedding, and the group has gotten back together to perform throughout the years. Linda is now a member of Oak Forest United Methodist Church in Davidson County where she is Church Organist, Choir and Hand-bell Director, and this is her 50th year of playing music in church.

Linda is a member of Oak Forest United Methodist Church, Delta Kappa Gamma (Beta Nu), Thomasville Senior Citizen's Club, Hall-Woodward Elementary School Flyers, and a Mary Kay Beauty Consultant. She received the Laity Award from Oak Forest in 2008. Linda has also received two mission awards from her United Methodist Women's group. Linda also volunteers to help the Midway Lions Club at the High Point Furniture Market each spring and fall. In addition, she had the privilege to work with author, Bill Britain, at Western Carolina to develop activities and higher level thinking questions for his book, THE WISH GIVER.

Linda's interests include singing, traveling, playing golf, reading, bowling, and spending time with friends and family. She and Dennis have visited 48 of the 50 states, still needing to see North and South Dakota, and enjoyed several cruises, loving the Caribbean Cruises the best.

In June, 2012, Linda entered the Ms. Senior Davidson County Pageant and won. She had no idea how much her life would be enriched by becoming a Senior Advocate for Davidson County. Then she won Ms. North Carolina Senior America on June 15, 2013. The people she has had the opportunity to meet and work with have made such a great impact on her life. She visits and entertains at Nutrition Sites and Assisted Living/Nursing Homes. Linda has been blessed and can't wait to see what doors God will continue to open in her life.