The Ms. North Carolina Pageant is operated by State Administrators Beverly Wetherbie, Judy Kelley, and Sarah Daffron. Many thanks to Ms. Wetherbie, Ms. Kelley and Ms. Daffron for wonderful state pageants and phenomenal State Queens!

The 2019 pageant will be held on May 18, 2019, at 7:00 PM at the Sunrise Theater, 250 NW Broad Street, Southern Pines, North Carolina.

For more information, contact Ms Wetherbie at bwetherbie@gmail.com, or visit North Carolina Senior America Pageant.

MS. NORTH CAROLINA SENIOR AMERICA 2018,
FRANN B. GRIFFIN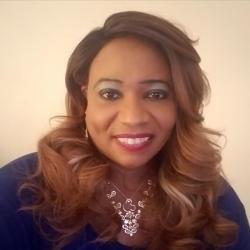 CONGRATULATIONS to FRANN B. GRIFFIN, Ms North Carolina Senior America 2018, and Special Thanks to Bev Wetherbie, Sarah Daffron, Judy Kelley and the ladies of the North Carolina Cameo Club for a wonderful State Queen!

Frann was born on December 15, 1955 in Mount Vernon, New York where she lived for 25 years. After graduating from Blessed Sacrament Academy, Frann attended Hampton University (formerly Hampton Institute). This is where her grandparents met, her parents met and where she initially met Peabody Griffin. Frann's Girl Scout experiences paved the road for her to be hired as Mount Vernon's Boy Scouts' Neighborhood Executive. Frann later discovered she was the first African American Neighborhood Executive for the Boy Scouts of America.

Peabody Griffin's marriage proposal to Ms. Mount Vernon 1978 led the young couple to reside in Augusta, Georgia.

Frann accepted employment with the CSRA Girl Scout Council. In her role as a Field Director, Frann recruited Girl Scout leaders for a five county area. The births of Christina and Danielle prompted Frann to secure a position requiring less travel, hence accepting a Recruiter position for the Medical College of Georgia.

As the children grew older, Frann and Peabody realized being around family was important. Not only did they move to Peabody's hometown, Frann's parents also relocated to Winston Salem, North Carolina.

Frann accepted an Human Resources Recruiter position with the Bowman Gray School of Medicine. She received her Bachelors of Art Degree from High Point University; then transferred into a Allied Health and Technical Human Resources Recruiter position at Wake Forest Baptist Medical Center which collectively lasted for a total of 24 years. Frann fondly recalls the day when a young man mentioned Frann had hired his grandmother, his mother and now hopefully him. Yes he was hired!

Through the years, Frann has enjoyed her role as a Recruiter. She is presently employed as a Talent Acquisition Specialist with Novant Health, Inc. Frann often states "this is my mission until HE tells me different!"

Frann is a volunteer reading buddy at South Fork elementary school and a Professionals In Transition Board member. She enjoys creative writing, adult coloring books, photography, videography, motivational speaking, and runs marathons.

When people ask Frann "how many children do you have?" Frann's strong faith enables her quick response, "God has blessed me with two children. One is at Disney World, the other is in Heaven. The best of both worlds!'