MS. NEW MEXICO SENIOR AMERICA 2020-21,
JOANNE PILS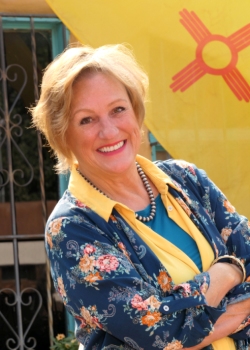 CONGRATULATIONS to JOANNE PILS, MS NEW MEXICO Senior America 2020-21!

Joanne Pils' experience, knowledge and enthusiasm for Life are exemplified by her professional experience, community involvement, being a single mother, raising a very successful daughter and recently beginning a full-time, graduate degree program. Joanne's graduate degree goal is to put into action her lifelong experiences and education by working with young people to assist them in maneuvering through this wild and wonderful life! Joanne is deeply and forever grateful for her amazing family, friends and mentors that have made an impact throughout her lifetime.

Since 2007, Joanne has lived in Albuquerque, New Mexico, and calls New Mexico home. She lived in Tucson, Az from 1976-2007, however she is originally a 6th generation Texan.

Professional Timeline:

1977-1985 Life Insurance Sales, Tucson, Az
1981-1988 Co-Owner/Co-Founder of Simutek Computer Center, Tucson, Az
1988-2003 Commercial Real Estate Sales, Tucson, Az
2003-2017 Associate Director of the Southwest University of Visual Arts (retired), Tucson, Az and Albuquerque, NM
2017-2020 Albuquerque Tour guide for the Albuquerque Trolley.


Community Involvement:

1972 (Summer) Volunteer in El Palmar, Guatemala for Amigos de las Americas (giving inoculations to rural Guatemalans, Joanne was a Junior in High School)
Board of Directors and Fund Raiser for numerous organizations including:
New Mexico American Advertising Federation-Past Vice President;
New Mexico Department of Tourism- Liaison for the development of 2012 New Mexico Bicentennial Logo
University of Arizona Women's Study Advisory Council Past President and founding Board Member
Women in Commercial Real Estate Founding Board Member, Tucson, Az
St. Cyril's Catholic School Board Member, Tucson, Az
Boys and Girls Clubs of Tucson, Az-Former Board Member
YWCA of Southern Arizona, Past President
.

Music and performing have also been a huge part of Joanne's life. She started playing the alto saxophone at 9 years old and has been in love with playing ever since. She was always the only girl in the 'Stage Band' in Junior High and High School in the late 60's and early 70's. She was often given solos to perform in state competitions.

In 1990, Joanne also took a leap to study acting and improvisational comedy. She focused on Commercial acting with agents in both Tucson and Phoenix. Joanne's quick rise to success made her noticed by agents in Los Angeles and New York. Joanne was recruited to further her acting career outside of Arizona however Joanne chose to stay in Tucson.

These experiences have helped Joanne develop an inner strength compassion and understanding for all that surround her. There will always be challenges and obstacles to overcome in life. Joanne has developed the wisdom to know how to embrace these challenges and move through them allowing her positive approach and energy for life to shine.