MS NEW JERSEY SENIOR AMERICA 2021,
DOROTHY JOHNSON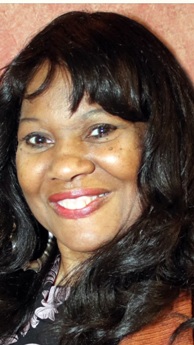 CONGRATULATIONS to DOROTHY JOHNSON, MS. NEW JERSEY Senior America 2021! A special thanks to our committed and dedicated State Administrators Johanne Santori and Terry Meade, for wonderful State Queens!

Dorothy L. Johnson, a.k.a., "Dottie J," is from Camden, New Jersey. Born the eldest of seven children, Dottie spent most of her childhood in Camden, NJ, where she graduated from Woodrow Wilson High School.

Dottie has always had a passion for the English language, grammar, spelling, and speaking. She attended Temple University, where she received certification as a court reporter from the School of Business. She launched a successful career with the 1st Judicial District of Pennsylvania using those skills. After thirty-one (31) years, Dottie retired to care for her autistic son and mother.

After several years as a caregiver, working with youth organizations and charities, Dottie realized there is nothing more rewarding than serving the underprivileged and the underserved such as at-risk children, the disabled, and the elderly.

Still, Dottie decided to utilize her lifelong ability to captivate an audience, whether at family gatherings, churches, or business meetings. Then, a friend suggested that she attend a workshop—Standup Comedy 101, at Camden County College, which was the beginning of her new passion as a standup comedian.

In 2017, after completing the workshop and after her first performance, she fell in love with comedy and performed at numerous venues in New Jersey and Pennsylvania. Dottie has appeared at the Punch-line Comedy Club, PA; Helium Comedy Club; Flying W Restaurant, Medford; Kings Christian School; Ambassador's Church, Cherry Hill, NJ; and the Living Faith Christian Center, Pennsauken, NJ.

On June 3rd, 2021, during the COVID-19 pandemic, Dottie won the coveted title of Ms. New Jersey Senior America. She brought sunshine and laughter into the hearts of many during a dark period in our history. She is honored to represent her state and the New Jersey Cameo Club. Dottie J. was thrilled to win the title because it allows her to show New Jersey seniors and other residents the potential to live positive, fulfilling, and meaningful lives regardless of age. It is never too late to pursue your goals!

Her future goals include becoming a motivational speaker because she has overcome insurmountable odds. She believes teenagers and young women can learn a lot from her experiences. Another goal is to have her own Netflix comedy special. Dottie's faith has taught her that no goal is too large when you believe in yourself and God.

Dottie is blessed to have the support and love of family and friends.