MS MISSOURI SENIOR AMERICA 2021,
CAROLYN SCHLUETER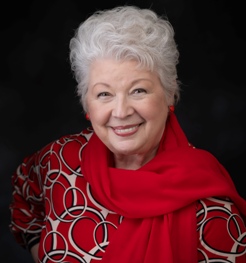 Congratulations to Carolyn Schlueter, Ms Missouri Senior America 2021, and to the Missouri Pageant Alumnae Club for a wonderful State Queen!

Carolyn grew up on a farm in Freeburg, IL, but now calls St. Charles, Missouri home.

She graduated from Miss Hickey's Secretarial School and spent the majority of her career at Anheuser_Busch, Inc. The highlight of Carolyn's working career was being the Executive Secretary to August A. (Gussie) Busch, Jr. until he retired.

She is enthusiastically pursuing her three passions in life ... photography, music, especially playing piano, and watercolor painting. Carolyn is an active member of the St. Louis Camera Club, Lake St. Louis Artists Association, St. Peters Cultural Art Centre, and Oak Leaf Artist Guild.

She is an award winning photographer having won the "Image of the Year Award" in the St. Louis Camera Club. Carolyn has won many other awards for her photography and her watercolor paintings, but music has always played a very prominent role throughout her life. In addition to performing at various piano venues around St. Louis Metropolitan Area, she treasures the memories of playing oboe with the Belleville Philharmonic Orchestra.

Carolyn's significant other, Don Fitch, has not only been her dance partner, but the love of her life for 23 years. Swing dancing was their main passion. Not only did it provide many great evenings of fun, but gave them the opportunity to travel all over the Midwest to compete in dance competitions and bring home the gold! Don makes Carolyn's heart smile and she loves him dearly. And after all these years, they even still like and love each other!

Carolyn is a three-time cancer survivor! Her faith and positive attitude have courageously carried her through 30 chemo/radiation sessions. She is currently cancer free and is an inspiration to everyone she meets. She lights up a room with her beautiful smile and her effervescent personality and has the gift of finding the words to turn a negative situation into something positive. She continues to enjoy life to the fullest!