The Ms. Mississippi Pageant is administered by the Mississippi Cameo Club under the direction of State Administrator Bonnie Hughes and her dedicated team: Gladys Hughes, Trina Schelton, Dr. Barbara Mauldin, and Barbara Travis. Many thanks for phenomenal State Queens, wonderful pageants, and many years of honoring the Age of Elegance.

The 2020 Mississippi State Senior America Pageant wull be held on July 25, 2020.

To learn more, visit Ms Mississippi Senior America Pageant or contact msseniorms@gmail.com. Plan to be inspired!
MS MISSISSIPPI SENIOR AMERICA 2019,
DAISY RICHARDSON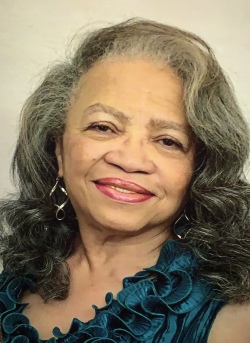 CONGRATULATIONS to DAISY RICHARDSON, Ms Mississippi Senior America 2019, and Special Thanks to State Administrator Bonnie Hughes for a wonderful State Queen!

Daisy Kelker Richardson hails from a small college town in Utica, Mississippi. She is the daughter of Nelson and Daisy Kelker. As a small child she displayed a keen interest in music, dance, and drama. This college environment afforded her the opportunity to participate in several extra-curricular activities at her school as well as youth activities at the community college. Her college matriculation began at Utica Jr. College and continued at Jackson State University. The proudest moment of her senior college experience was membership in the Sonic Boom of the South, an outstanding and renowned marching band. After several years of working as an assistant teacher, a computer operator at the Mississippi Medicaid Division of Blue Cross Blue Shield, and as a dance and flag squad director, Daisy became a housewife. This gave her time to concentrate on her North Star, that is being the best mother and wife she could be. Daisy and her husband, Roy, Sr., have three children – Tracey, Roy Jr. and Kimberly and often reminds them of her mother's advice, "There is a light inside each of us, just turn it on."

Since surviving a kidney transplant eleven years ago, Daisy wants to embrace the exciting challenges and the thrills that life has to offer. To fulfill this goal, and following Doctor's orders, she has joined a Silver Sneakers exercise group, a karaoke group, and has become more active in community activities. Traveling with her husband and spending time with her family help her stay strong, vital, and physically active.

She is a very active member of Welcome Baptist Church, Friends of Utica, Magnificent Eight, Strawbridge Baptist Church Hospitality Club and the Community of Women Ministry. Further, she supports special projects at other churches in the surrounding area.

Daisy is passionate about representing the State of Mississippi in Atlantic City. She looks forward to meeting the other ladies in this great organization which emphasizes sisterhood at the "Age of Elegance." She is presently employed as a domestic engineer, in charge of environmental services at Richardson and Associates. Now, does that sound better than housewife, mother, and grandmother?!