The Ms. Massachusetts Pageant is administered by the Ms Senior Mass Pageant organization under the direction of Lorraine Gorham and her dedicated team, Pat Booth, Joanne Impoco, Connie Lind, Patti Liquori, Jessie Rivers, and Ellie Walsh.

Many thanks to Ms. Gorham for her years of hard work and dedication to Ms. Massachusetts!

The 2020 Ms Massachusetts Senior America Pageant will be held on June 28 at the Holyoke High School in Holyoke, Mass. To learn more, contact lorraines352@aol.com, and make your plans to be inspired today!

MS MASSACHUSETTS SENIOR AMERICA 2019,
IRENE SZLOSEK-LEMIEUX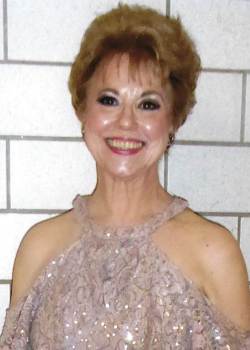 CONGRATULATIONS to IRENE SZLOSEK-LEMIEUX, Ms Massachusetts Senior America 2019, and Special Thanks to State Administrator Lorraine Gorham for a wonderful State Queen!

Irene was born in Ludlow, MA and currently resides in South Hadley. A 1960 graduate of Ludlow High School, she graduated from Mohawk Airlines Training Facility, giving her the opportunity to travel. In 1983 she experienced a personal highlight--flying on the British Airways Concord at twice the speed of sound to London and back.

Irene's interests are varied and include yoga, meditation and prayer, exercise, reading, painting, singing, dancing, knitting and sewing. She is currently studying Astrology. Her church since childhood is Christ the King parish in Ludlow where she is a member of the choir, Ladies' Guild, picnic committee and an adorer in the chapel.

Irene is First Soprano with the Springfield Symphony Choir and a member of the Cameo Club. Irene was the first Ms Ludlow in 1965 to compete in the Massachusetts preliminary of the Miss America Pageant and in 1966 was voted Springfield's Model of the Year.

Irene's family included her husband, Lucien; mother, Mary; and father, Ignatius. With the passing of most of her family, Irene illuminated the dark of her life and survived. Now a pioneer of radio, TV, solid rubber tires, dirt roads and leaving your doors and windows open--Trusting Everyone! Irene believes we are all unique--no one else has our fingerprints.