The Ms. Massachusetts Pageant is administered by the Ms Senior Mass Pageant organization under the direction of Lorraine Gorham and her dedicated team, Jessie Rivers, Connie Lind, Joanne Impoco, and Ellie Walsh.

Many thanks to Ms. Gorham, and to Fran Owens, Ms. Maine 2011, for their years of hard work and dedication to Ms. Massachusetts!

The 2018 Ms Massachusetts Senior America Pageant was held on April 29th at 1PM. To learn more about Ms Massachusetts, contact lorraines352@aol.com, and make your plans to be inspired today!

MS MASSACHUSETTS SENIOR AMERICA 2013,
DIANNE McCOY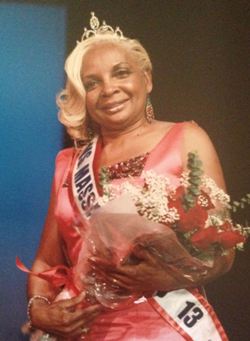 Evangelist Dianne McCoy is a native of Shreveport, Louisiana. She has resided in Springfield, Massachusetts, for the last 45 years. She is the mother of three beautiful daughters, one granddaughter, five grandsons, two great-grandsons.

Evangelist McCoy graduated from Valencia High School in Shreveport, Louisiana in 1969. She attended National School of Dress Designs, and also graduated from the Ultra Sound Diagnostic School for Medical Assistance in 1998. Evangelist McCoy has been an entrepreneur for the last 45 years at the Lady Di House of Style where she handles custom made clothes, alterations, wedding, flower arrangements, co-ornate weddings, fashion shows, etc. She taught Modeling for twenty years. She also loves to shop for fabric and shoes and enjoys working in her yard, as well as decorating.

Evangelist McCoy received the Lord in September 9, 1991, at Mount Gideon's Church of Love under the late Pastor Cleo Franklins. She answered the call of God as his evangelist in 1993 and received training in the field of Evangelism.

Evanglelist McCoy is a member of Goodwin Memorial A.M.E. Zion in Amherst, Massachusetts, for the last three years under the leadership of Pastor Alfred L. Johnson Sr. She has a love for senior citizens. She has ministered at the Wingate Nursing Home for the last thirteen years and four years at Red Stone in East Longmeadow, Massachusetts.

On January 29, 2005, the Lord called her to minister to the needs of women and gave her the name, "I Shall Be Whole Outreach Ministers," where women can talk and pray about their problem. The Lord had moved mightily and powerfully in this ministry.

Evangelist McCoy believes that the Lord has called her for such a time as this. Her motto is, "He has begun a good work in me." And I won't go back!