MS IDAHO SENIOR AMERICA 2013,
PATRICIA McKAY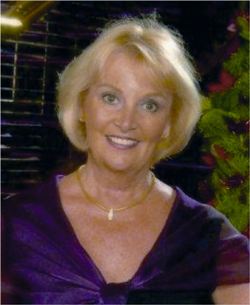 CONGRATULATIONS to PATRICIA McKAY, Ms Idaho Senior America 2013!

Patricia McKay was born and raised in Washington state but willingly became an Idaho transplant when she moved to Boise, Idaho where she and her husband raised their family of two children. She also has two grandchildren.

Patricia McKay was a flight attendant in the late 60ís and thus began her love of traveling. After marriage she became a travel consultant and has traveled to nearly all the continents of the world by air land and sea, however her most enjoyable and favorite mode of travel is cruising.

She enjoys working with people and throughout her life has usually found herself in some sort of sales work.. After over 20 years in the travel industry she joined her husband working in their family business which included sales and personnel management. Her responsibilities, which she found both challenging and gratifying, included working with as many as than 65 employees.

After retiring from the family business, she obtained her real estate license and continues to meet and enjoy working with people. She loves the challenge of finding that "special new home" for her clients. Patricia also acts as office manager and bookkeeper for her broker.

Ms. Mc Kay began developing her musical talents early in her grade school years. She has performed and starred in many local musical theater productions. She has performed with Boise Opera, Boise Master Choral, Boise Choristers and the Common Ground Choral Group. She also shares her musical talents in her church choir, at assisted living, care centers and at various civic and community functions.

In her spare time, she enjoys designing and refurbishing homes, gardening, sewing and crafts, as well as spending time in the kitchen preparing meals. She volunteers at her Church, Habitat for Humanity, Paint the Town, and is on the Board of Directors for her Homeowners Association as Secretary/Bookkeeper.

Since being chosen as Ms. Idaho Senior America in May of 2013, she has kept a busy schedule meeting the public, riding in parades and meeting and greeting the Seniors of Idaho. She feels it is an honor to represent them and the Great State of Idaho.