The Ms. Colorado Pageant is administered by the Colorado Cameo Club under the direction of Rene Green and her dedicated team: Yvonne Guzman Rodriguez, Asst. State Pageant Admin; Carol Swanson, Production Manager; Judy Rowe and Camella Landrum, Asst. Product Manager; Jan Harley, Open Number Director; Yvonne Guzman Rodriguez and Shari Ortiz, Judging Committee; Kathy Saidy, Awards/ Trophies; Shari Ortiz, Program Books; Pat McHenry, Reception/stage design; and the terrific Cameo volunteers.

Many thanks to Ms Green, the Colorado Cameo Club, and former administrators Shari Ortiz and Debbie Buczkowski for phenomenal State Queens and wonderful pageants! The 2018 Ms Colorado Senior America State Pageant was held on May 26, 2018. For more information, see www.colsramerica.com. Plan to be inspired!
.

MS COLORADO SENIOR AMERICA 2013,
GAIL HAMILTON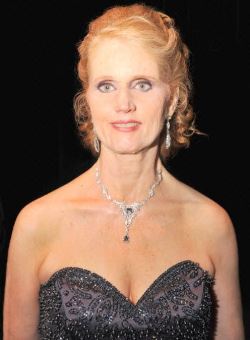 CONGRATULATIONS to GAIL HAMILTON, Ms Colorado Senior America 2013!

Though Gail is totally blind, for more than thirty years, she has been assisting others in overcoming their obstacles, challenges, and daily struggles empowering them towards options, creativity, and spontaneity. Gail is a powerful inspirational and entertaining speaker, author, performer, and teacher.

Gail was named Best Classroom Speaker in 2013 by Denver Community Resources Inc. Gail is Toastmaster's 2010 International Speech Competition second place winner in the Denver Division. Gail speaks on various topics such as Climbing Your Mountains, Living Your Dreams and Finding Your Wings, for such organizations as United Federal Campaign, Habitat for Humanity, Toastmasters, and the Denver Public Schools.

She has a CD titled "Singing on Wings of Love" and is co-author of "Speaking your Truth, a Woman's Anthology, Volume three," "Modern Day Miracles" by Louise Hay, "Lift as you Climb" and "Singing your Song."

Gail is about to publish her life story in a book. Her musical professional experience includes being a singer of concert and operatic repertoire on a national level, teacher of private voice, autoharp and piano lessons in a home studio, Vocal Coach and Musical Director for Physically Handicapped Musical Actors League, Inc. (PHAMALy), entertainer and performer for venues from Elder Care Centers to conventions, and teacher of "Piano For Fun" through Colorado Free University. Gail has a Bachelor of Arts Degree in Music, a Master of Music Degree in Vocal Performance, and Doctoral Studies from the University of Colorado in Boulder.

Gail also has a Master of Arts Degree in Transpersonal Counseling and Psychology and has received certification as a Reiki Master, and a Gestalt Psychotherapist. With all of her accomplishments, including singing the leading role in two operas and building her own Habitat for Humanity House, Gail looks forward to even more in her life with her vision being un-detoured by her blindness and is getting ready to publish her autobiography, "Soaring To Greatness, a Blind Woman's Vision to Live Her Dreams and Fly On Her Wings," an inspirational nonfiction novel of courage and perseverance.