MS ARIZONA SENIOR AMERICA 2013,
LEE LOTZE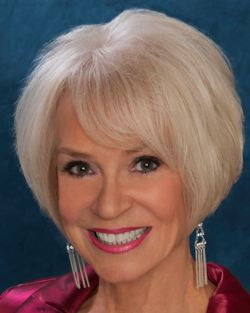 CONGRATULATIONS to LEE LOTZE, Ms Arizona Senior America 2013! As Lee tells it:

I was born in Spokane, Washington to a family of five children. We lived in the country and grew up playing with cousins and friends, riding horses, and swimming in the nearby lakes in the summer and sledding on the hills in the winter. It was a simple, happy childhood.

Later I attended college and graduate school where I studied child development, music, and psychology.

As a profession, I worked in the Spokane School District as a school psychologist/education specialist. I found the greatest personal satsifaction in being an advocate for children and working to help them achieve success both academically, socially, and emotionally. To see them grow to become independent learners, set goals and work toward their dreams and become responsible citizens was immensely rewarding.

My favorite hobby was directing a children's musical group, "The Youngtimers" composed of about forty members. We performed in many different venues and school assemblies, singing, dancing, and playing musical instruments. They represented our city on many occasions and received great community support. Some of our most appreciative audiences were those residents in retirement/assisted living communities....how they loved hearing the children sing. And the kids learned so much in giving of themselves to make others happy. Music was my passion and I loved working with kids. Everone enjoys the beautiful sound of children's voices. My marriage to my childhood sweetheart produced three wonderful children, two boys and a girl, but unfortunately, it did not last. However, he and I have remained good friends over the years. My children are grown and I have seven beautiful grandchildren, all of whom live in Washington state.

After several years of being "happily single", I met the love of my life and we were married within a year of our meeting. He was my "Prince Charming"! By that I don't mean that he rescued me, but he brought a depth of love and happiness to my life that I never known. Some of our interests outside of work, were downhill skiing, sailing on our sailboat, physical fitness, participating in fun runs around the country, and traveling. I also inherited two wonderful step-children and three step-grandchildren.

The biggest tragedy of my life came when my husband was diagnosed with a debilitating disease that gets progressively worse over time and our lives changed forever. He managed to continue working in his business for about four more years, although he could no longer operate the sails on our sailboat, or ski, or participate in fitness runs. I left my job so that I could be with him to get and take care of him. Since the snow and ice in Spokane made in difficult for him to get around, we decided to sell our house and move to Arizona. We landed in Surprise, Arizona's Sun City Grand in November of 2005. We felt that move was good for us. I was a caregiver to my beloved husband for several years and he reamined the sweetest soul to the end. He departed this earthly life for his heavenly home in March, 2008. I was truly blessed to have been married to this man for twenty-five years! Then, a friend talked me into getting involved in music and dance. I had never danced before, although my daughter was a classically trained ballerina, so I had been around dance for most of her life. But, I can say, without hesitation, that it literally brought me "back to life"! Music and dance is good for the soul. I sing in a chorus and dance with a dance troupe and I love every minute of it. Life is good and I love the Arizona sunshine! I wake up every morning and count my blessings!