MS ALABAMA SENIOR AMERICA 2019,
SUZANNE FLEMING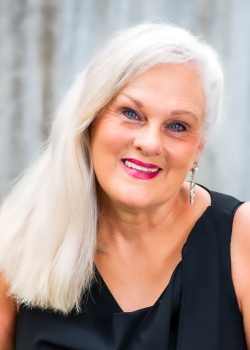 CONGRATULATIONS to SUZANNE FLEMING, Ms Alabama Senior America 2019, and Special Thanks to Rita Allen and Edwina Chappell for a wonderful State Queen!

How Firm A Foundation... From as early as I can remember, I was taught the importance of self-worth and a sense of destiny. This fueled a passion to impart this to the next generation. In 2015, my husband Gary and I co-founded Eagles Club, a successful faith-based after-school program in Eufaula, Alabama for at-risk children and youth. At Eagles Club, now in its 5th year, we have our students declare daily that they soar high, they are important, they have a purpose, and they are destined for greatness.

A Heart for Home and Children... I have been happily married to Gary Fleming for 47 years. We have 3 grown children, and prior to my 16 years of homeschooling them, I worked with children in education. Gary and I treasure spending time with our 13 grandchildren, investing in them and encouraging them to discover and realize their destiny. Music has always been an important part of my life. I grew up singing in the church choir and gathering around the piano after a big family meal to sing with my aunts and cousins.

Gary was an outstanding athlete at Samford University in Birmingham, Alabama, and in 1969, was drafted by the Baltimore Colts in the 7th round of the NFL draft. When a knee injury ended his professional football career, Gary continued to excel in athletics as a high school coach, winning championships in both football and basketball, including 7 state championships, and being named Coach of the Year several times. In 2001 he was named to the Wiregrass Sports Hall of Fame, and earlier this year was inducted into Samford University's Sports Hall of Fame.

Gary and I have been in the ministry for 50+ years where I taught Sunday School and Vacation Bible School, led youth retreats and camps, and served as Ladies' Ministries Director.

Employing my Talents... I grew up in the restaurant business, and for over 15 years I ran an established catering business which provided food, cakes, and flowers for weddings, and also assisted brides with wedding plans. I have studied herbal health and healing for over 30 years, managed a ladies' boutique helping women present their inner beauty and personal uniqueness and provided interior designer services helping ladies create a home which is a haven for their family and friends. I participate in community service projects and food banks.

Empowering Others... A woman's senior years can be her Age of Elegance, but can also be the age of new exploits, teaching her how to help the next generation with her hard-won wisdom, her rich reservoir of life experiences, and multi-faceted life skills. As part of our work with Eagles Club, Gary and I are involved in mobilizing seniors to be involved in making a difference to the next generation by introducing them to Eagles Club and the opportunities to be involved there as tutors, teachers, and character coaches. We recruit, train, equip, encourage, support, and oversee a team of volunteers with much success.